Brides are recreating their mother's ensemble for their D-day, and ace celebrity stylist, Pernia Qureshi made headlines when she re-wore her mother's thirty-year-old gharara for her reception.
Accept it, we have all envied our mom's closet and eyed her handloom sarees and suits that she has kept carefully packed. Since the age of six, her trousseau has been a treasure hunt for all of us and we have grown up hearing the stories behind each ensemble, especially her wedding day outfit and how her eyes shine when she shows it to us with pride and the nostalgia that is attached to it. At that moment, we want to wear our mother's wedding outfit and see if we look even an ounce as pretty as her. In our head, we have already made a list of ensembles we want to borrow from her closet when we get married.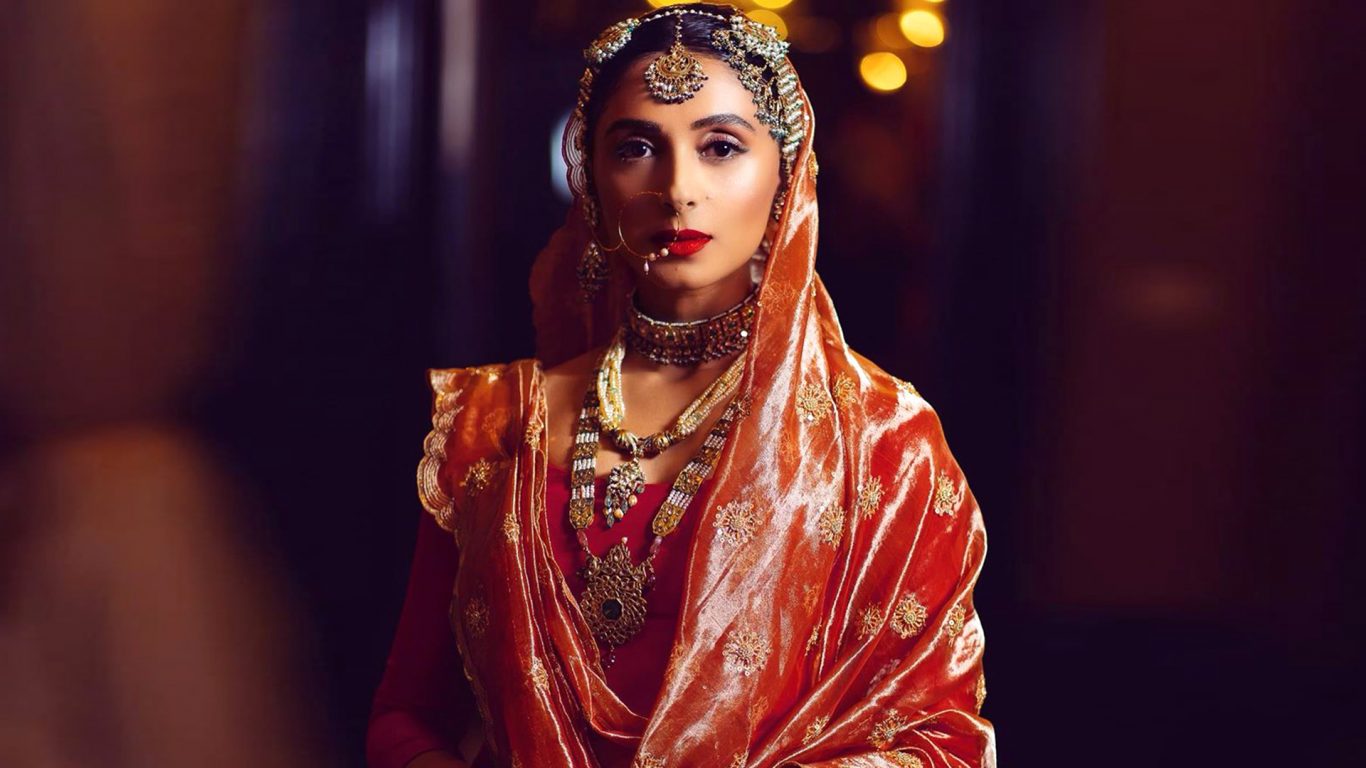 After all, something is fascinating about the thought of wearing our mother's dress, especially her wedding dress on our wedding day. While it is a huge trend in the west, there are many brides in India, who are happily trying it. Recently, we spotted a fashion entrepreneur, Pernia Qureshi, who recreated her mother's thirty-year-old gharara for her wedding reception in Turkey.
Before we take you further into the story, look at Pernia's 'something old, something new and everything whimsical outfits'. For her bridesmaid photo shoot, Pernia opted for a pastel pink satin ensemble from her label. Her outfit consisted of a satin skirt with a contrasting backless crop top. She kept her look subtle with diamond earrings and a choker neckpiece. Nude makeup and hair pulled in a ponytail completed her style.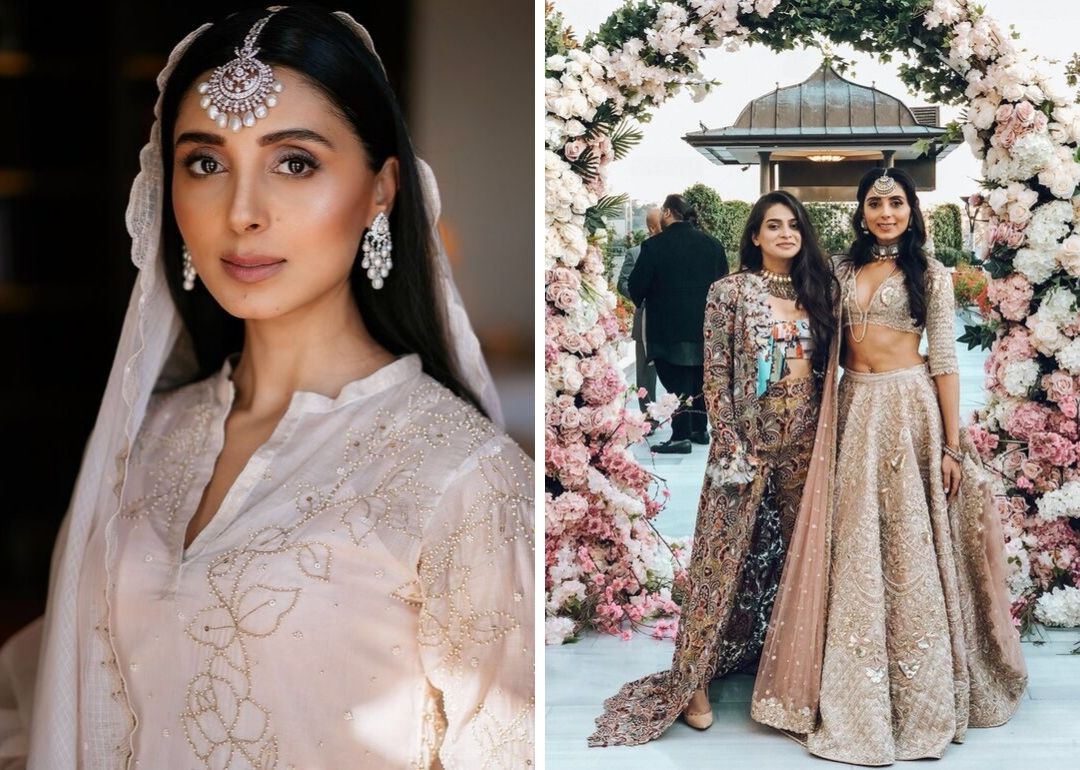 For her Mehendi, Pernia reminded us of old-world charm with her dreamy Pernia Qureshi Label outfit. Her beaded kurta was accessorized with a statement mangtika and diamond earrings. Celebrity makeup artist, Namarat Soni accentuated her look with dewy sheen makeup, contoured cheeks, and open tresses. For the sangeet ceremony, Pernia set another trend by ditching the jazzy outfits and opting for a blush pink lehenga from a Pakistan-based designer, Faraz Manan. Her outfit comprised of gorgeous intricate embroidery all over it. And the bride added a regal touch to it with a choker neckpiece, matching earrings and an oversized mangtika.
For her nikkah ceremony, Pernia chose a bespoke silver bridal wear from Elan. The outfit made her looks like a princess straight out of fairytale books. The outfit comprised of Swarovski crystals and floral embroidery all over the mermaid cut lehenga that complimented the bride's silhouette. A contemporary sheer veil with diamond jewelry completed her look.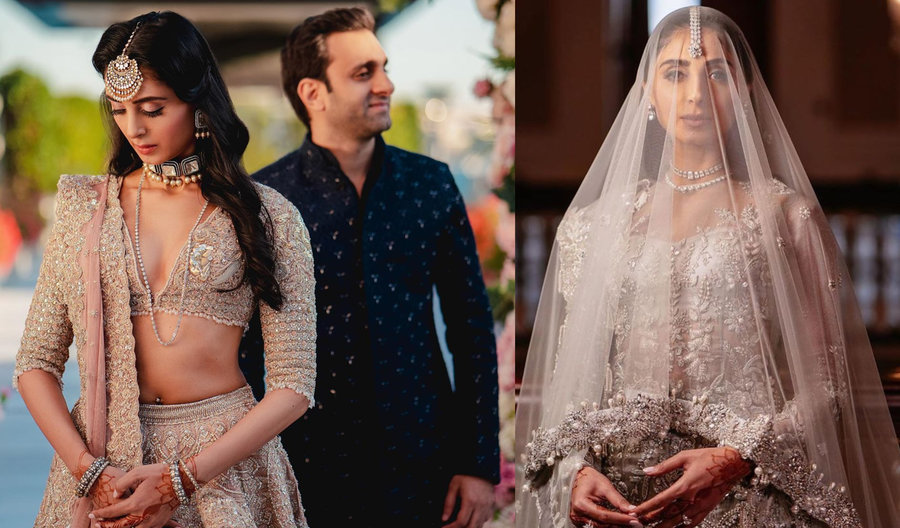 Pernia set a new trend with her wedding for the 2019 brides, but the highlight of her wedding was her mother's thirty-year-old gharara that she recreated for her wedding reception. The outfit which was originally hand-stitched by her Nani (grandmother) for her mother's wedding day was restored by House Of Kotwara using real zari and it took almost 22 months to complete the outfit.
Pernia Qureshi is a fashion enterpriser, stylist, Indian classical dancer, and Bollywood actress. She has worked with Harper's Bazaar, Elle and Conde Nast in New York and New Delhi as a stylist. In 2010, Pernia worked as a costume designer in the movie Aisha. She received much recognition for designing Sonam Kapoor's look in the film. She has founded her shopping website perniaspopupshop.com. She was seen in Muzzaffar Ali's Jaanisaar.
Biography
Pernia Qureshi was born in Swat, Gilgit-Baltistan, Pakistan to an Indian father hailing from Rampur, Moin Qureshi, and Pakistani mother, Nasreen Qureshi. Since the age of six, the beautiful clothes her mother would wear mesmerized her. She studied law but her true passion lay in the art of fashion. She is a formally trained Kuchipudi dancer, under the renowned dance couple Raja-Radha Reddy. She has performed at multiple choreography shows across India with performances of Sufi music by Abida Parveen and choreography transliteration of the Urdu poems of Minu Bakshi.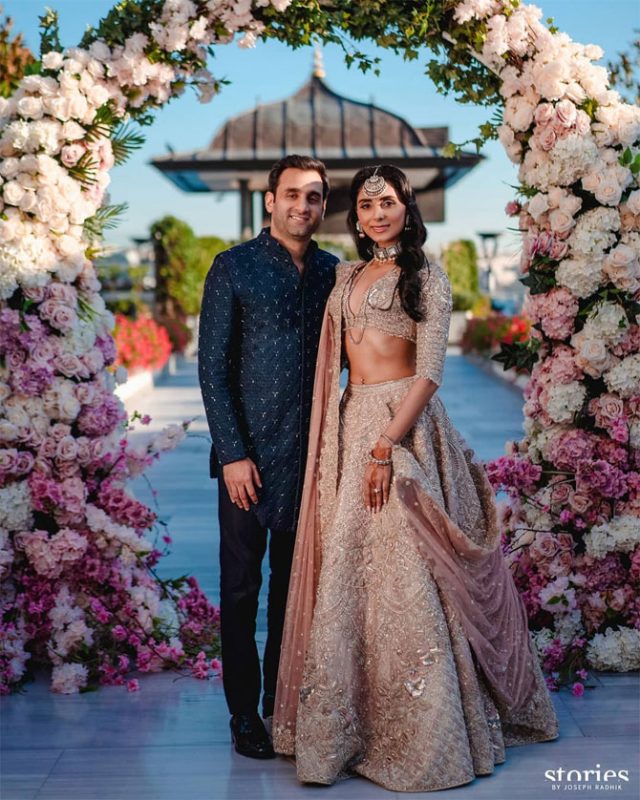 Pernia Qureshi started her career with an internship at major fashion magazines in New York. She then worked as an assistant stylist in New York City for Ann Caruso, a contributing editor at Harper's Bazaar. She continued her fashion journey by doing some freelance work with Conde Nast, before moving back to New Delhi. She worked independently with India's foremost fashion designers like JJ Valaya and Tarun Tahiliani – on their campaigns, look books, and fashion shows.
She represents the new Indian fashion movement: Daring, futurist, and all pervading. Her litany of achievements just doesn't seem to end – she styled Sonam Kapoor in the designer caper Aisha, launched her label which became a metaphor for the contemporary city soignee and kick-started her online store. Always dressed to eclipse the red carpet, this glamazon has given styling a new lexicon by styling shoots with a refreshing and much-needed newness and vision.